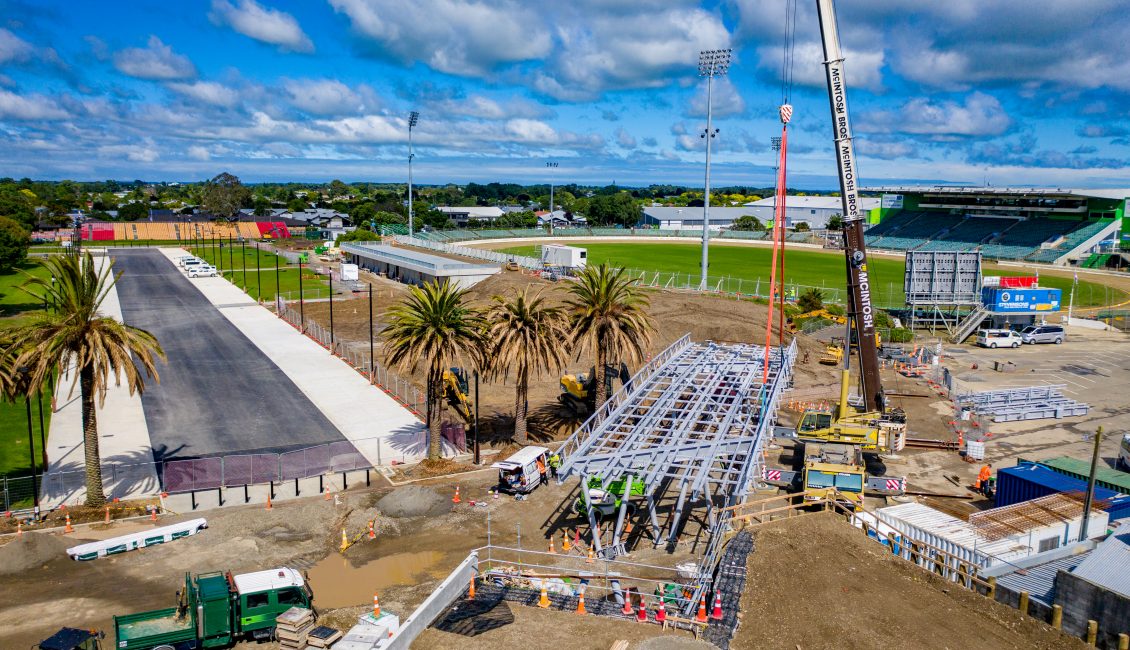 Speedway fans will see the new pits unwrapped and ready for use for post-Christmas racing at the Robertson Motors International Speedway at Central Energy Trust Arena.
Racing on Monday 28 December will see the Saloon Series, the Brent Lowe Memorial Stockcars, the Manawatu Minisprint Champs, and the ever-popular Ramp Derby, with drivers and support crews making use of the new space.
The pits have not been available for early season racing, as time was needed to ensure grassed areas had settled well, so they wouldn't become damaged.
While construction at Central Energy Trust Arena is ongoing, speedway visitors will also be able to see the new entrance plaza structure in place, with stockcars and a walkway passing under it.
"We know anticipation has built around this development and are delighted to be able to deliver this Christmas present to the speedway community. You'll really be able to see the vision for the entrance plaza beginning to take shape as well," Palmerston North City Council's Venues Manager John Lynch says.
This stage of the CET Arena Masterplan redevelopment, including the entrance plaza and ablution blocks, is set for completion end of March. "While there is still construction around the new pits, work is progressing well and to plan," Lynch says.
Teams Champs tickets
Struggling to find the BEST Christmas gift … go high-octane with tickets to the ENZED Superstock Teams Champs. This is the premier event on the New Zealand and International Speedway calendars, for which fans travel from far and wide to be part of its thrilling atmosphere! You can buy tickets here: http://ow.ly/hl2w50CE9q3