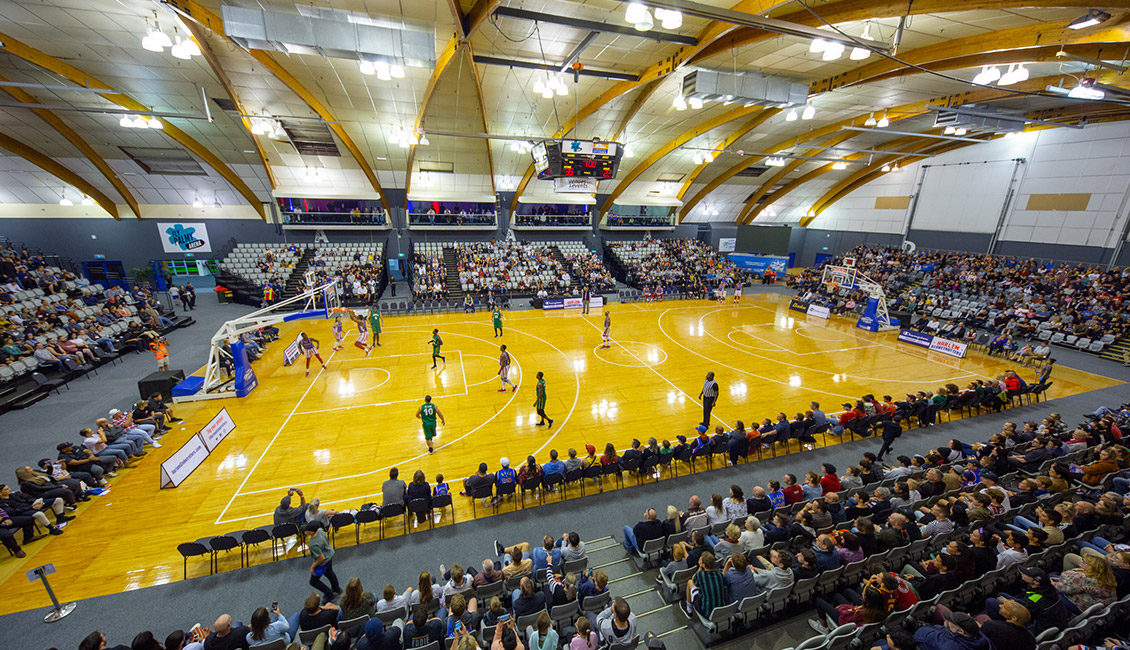 Fly Palmy Arena is a purpose-built indoor sports and entertainment venue that can accommodate up to 5,000 people.
Distinctive laminated polished timber beams are an appealing feature of the extensive 3,400m2 open plan interior.
Features:
Retractable seating units
Fully sprung beech sports floor
Wide range of stage modules
Fully integrated sound and PA system
Single phase and 3 phase (32amp and 63amp) power
Four changing rooms
On-site ticketing office
Four individual umpire change rooms with showers
Two 6m x 6m loading doors
Free wifi for all major events
Sports markings for up to 20 badminton courts, up to 5 courts of basketball, volleyball and ultimate frisbee, and 3 courts of netball
Foyer area is available for pre-dinner drinks or as a registration area for conferences
Corporate lounges
Fly Palmy Arena has four corporate lounges overlooking the venue that can be used individually or in conjunction, holding a capacity of 60 people per lounge or up to 240 altogether.
Corporate lounge features:
Balcony overlooking the main arena
Kitchenette area
Air conditioning
Sound system
Media lounges
Fly Palmy Arena has two media lounges overlooking the venue. These two lounges are positioned perfectly for all events held inside the venue whether it be for an international netball match or a school volleyball tournament.
Media lounge features:
TV platform with open viewing
Bi-fold windows overlooking main arena
Ladder for communications cabling
Plenty of space for truck parking
3 phase power (32amp and 63amp)
Kitchenette and toilet facilities
Full data connections
Air conditioning
Viewing window through to Arena 3
Internal and external access
Community and school rates available.