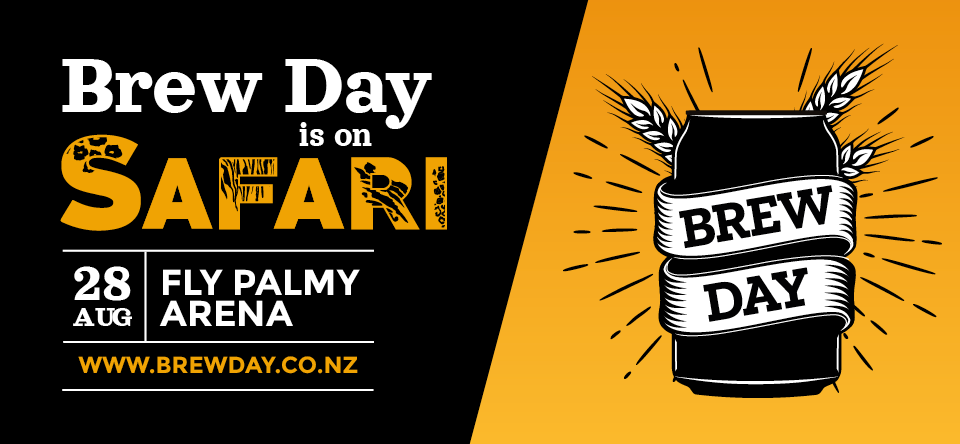 23 August
An update from the promoter:
"BrewDay Postponed
We have made the decision to postpone BrewDay until 13 November 2021. The decision was made after giving consideration to the COVID-19 situation with New Zealand currently being at alert level 4. As BrewDay can only take place at alert level 1, we considered it prudent to postpone.
All tickets for 29 August remain valid for the new date. If you can't make the new date and wish to on-sell your ticket, this can be done via the Ticket Fairy resale system. Details on how to use the system can be found by CLICKING HERE.
Thank you for your understanding and support, we are committed to bringing BrewDay to Palmerston North so that you still get to enjoy the festival.
Please be kind, scan, wear a face covering and stay safe. See you in November.
The BrewDay Team"
—
BrewDay are going on SAFARI to Palmy… come and have a WILD time at this SAFARI themed festival of craft beer
Celebrate great craft beer, cocktails, wine, food, and entertainment.
BrewDay is proud to announce that they will have a local band "The Regularz" providing the sounds for you at BrewDay. Music from The Regularz will get your toes tapping, hips swaying, and head-nodding.
Join The Regularz for some classic rock, soul, pop, ska, and reggae, with a smattering of country too. There are crowd-pleasers all through the set – from kiwi classics to global bangers.
Gather your safari team together and get your tickets now!
Check out their website for FAQ's and further information on the breweries, wineries, and food vendors that will be at the event.