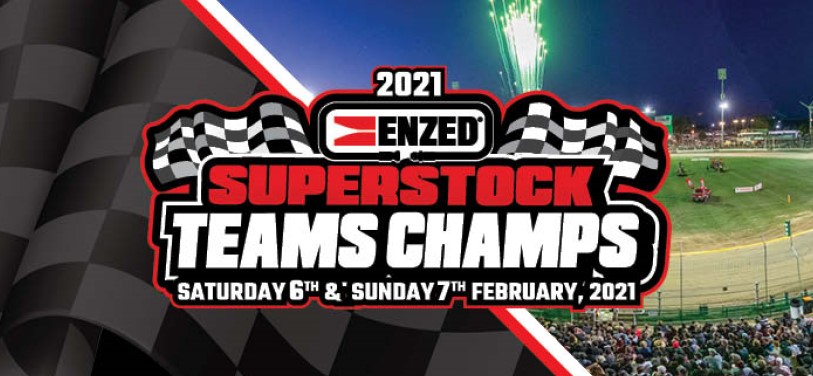 The 41st running of the ENZED SuperStock Teams Champs is back on Saturday 6 and Sunday 7 February 2021, at Central Energy Trust Arena.
Purchase tickets online to avoid the queues. Our new ticketing partner, Ticketek, has a seat select function through their online booking system. Patrons will have the ability to view the venue map and choose their seats accordingly, with payment made by credit or debit card online.
Tickets can also be purchased by phone sales, between the hours of 8:30am – 5pm on weekdays or 9am – 5pm on weekends. This can only be done by calling Ticketek directly on 0800 TICKETEK (842538).
For those who wish to purchase tickets over the counter, this can be done at Central Energy Trust Arena or the Palmerston North Conference & Function Centre.
This is the premier event on the national and international speedway calendars, where fans travel from far and wide to attend this unique event with the most thrilling atmosphere. Teams from around New Zealand make their way to Palmerston North to battle it out and have hopes of taking the silverware home. Iconic teams including last year's winners the Hawkes Bay Hawkeyes, Palmerston North Panthers, Wellington Wildcats and Stratford Scrappers (to name a few) are always willing to put their bodies and superstocks on the line for the glory!

The rich history and legacy of this event at the Robertson Holden International Speedway continues to shine on with the reality that any team has the ability to take the title, after a hard slog and gladiator style battle, leaving fans on the edge of their seats. The electric atmosphere is something that you need to be a part of! Make sure you purchase tickets early to avoid disappointment. The grandstand sold out in one day for the 2020 event!
Check out some helpful event info below and strap in for an awesome event:
🎟 If you have TICKETS TO COLLECT on event day, these must be collected from the Waldegrave Street ticket booth which will be open from 10am on both event days. Please ensure you have either your ticket purchase confirmation email or photo ID to present upon collection of your tickets.
🎟 Saturday & Sunday at 10am – Waldegrave Street ticket booth opens for ticket sales and pick up.
🚗 On site car parking is available via Gate 4 on a first in first served basis – $10 per vehicle. Car parking opens from 2pm. Please ensure your vehicles are locked, and any valuables removed from sight as unfortunately we cannot guarantee the security of your vehicle and belongings.
🚗 Free street parking around the perimeter of the Railway Land (Church & Main Street) on a first in first served basis.
🚶‍♂️ Saturday & Sunday at 3pm – GATES OPEN!
⚠️ Pre-purchased ticket holders can enter through any of our entry points. If you are planning to purchase a ticket on event day this can only be done at Gate 1 (Waldegrave Street), Gate 3 (opposite Cook Street) or via the Oakley Street entrance.
🎉 The Grand Parade will start at 6pm both event days, with racing beginning at the conclusion of the Grand Parade.
👉 Teams Scrutineering, Saturday 6 February from 1pm-4pm. Head down to The Square for your chance to view the racing vehicles and this year's competing teams!
👉 Drivers signings on Saturday afternoon for ticket holders only from 4pm-5pm. Head to the Barber Hall at Central Energy Trust Arena to meet the teams.
🏍 Sunday event ticket holders will also be treated to an FMX stunt show starting at 5.45pm, featuring motocross athletes Levi Sherwood, Nick Franklin and Carlos Hanlon.
🍟 Food and beverage will be available to purchase at the venue.
🍔 Commercially prepared food is not allowed inside the venue, this includes the like of Dominoes, Pizza, KFC and McDonalds.
✔️ Home prepared food (AKA not commercially prepared) is permitted in the venue, this includes sandwiches, baking, salads and fruit.
❌ ID will be required when making any purchases from the bar. No ID, no service.
👜 Bag searches will be conducted upon entry to the venue & prohibited items will be confiscated
.🍺 Any person who is, or appears to be, intoxicated will not be permitted entry to the venue.
👉 View the conditions of entry: http://ow.ly/cWfF50DkgHS

SCAN, SCAN, SCAN! Remember to scan in using your Covid-19 tracer app upon entry to the event. If you are unwell, please stay home. Do your part to protect yourself and others against Covid-19