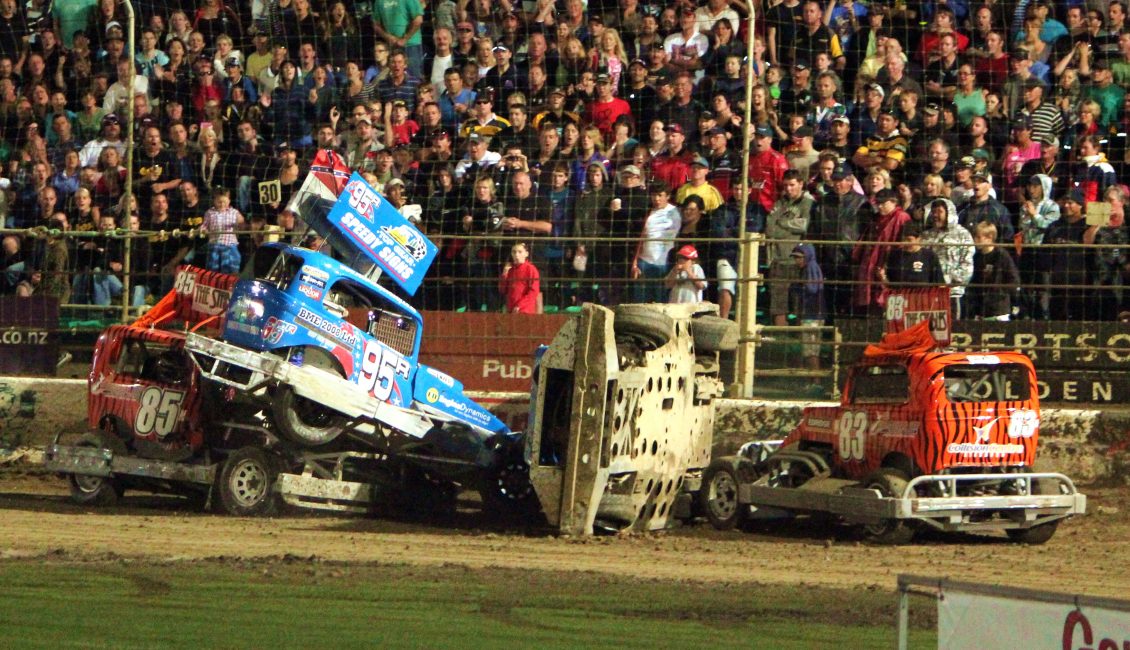 Stockcar action is back with the held over 2019/2020 Manawatu Stockcar Championship being hotly contested
You just won't want to miss this exciting night for the whole family at the Stockcars. From the metal crunching mayhem of the 19/20 Manawatu Stockcar Championships , to the Ray Tarrant Memorial for Sidecars, fast and furious SuperStocks, and the Saloons – Corvettes, Mustangs and Camaros all racing door handle to door handle the action will be non-stop, add the Manawatu Standard Fireworks Spectacular and you have a recipe for exciting entertainment.
The carnage of the metal crunching Stockcars will battle it out to take the prestigious title honours after COVID19 dashed their hopes last season. Local drivers Luke Miers, Roydon Winstanley, Daniel Burmeister are all within grasp of the title after their opening night debuts and showing they are on the pace and up for real contention of the title. The Manawatu Stockcar Championship title has a rich history of past champions which makes this a title that is always hotly contested.
The Ray Tarrant Memorial trophy should draw an excellent field of Sidecars from far and wide. Ray was the announcer here at the Speedway for many years and was an ardent supporter of Sidecars.
The Saloons are back, racing door handle to door handle in their Mustangs, Corvettes, Commodore V8's and Camaros, these wide tyred, high powered race cars are something to really marvel at.
Finishing the night with the Manawatu Standard Fireworks Spectacular, the most impressive and biggest Fireworks display in the Manawatu will light up the night sky.
As the new Pits are still a work in progress the only gates for entry are on Waldegrave & Pascal Streets and these gates open from 4pm. Gates accept both Cash & EFTPOS Payments (no credit card) but in order to move the line quickly we recommend coming prepared with cash. There will be plenty of food vendors on site which accept cash & EFTPOS payments.
Check out their Facebook and keep up to date with what's happening at the Robertson Holden International Speedway!