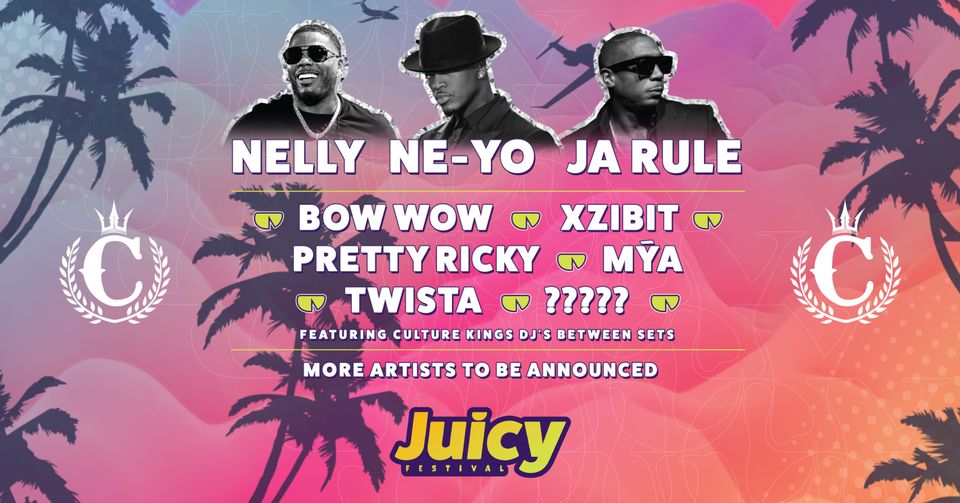 Culture Kings presents Juicy Fest!
Scheduled for 8 shows across AUS & NZ summer, January 2023. Boasting a star studded lineup headlined by Nelly, Ne-yo & Ja Rule followed by Bow Wow, Xzibit, Pretty Ricky, Mya, Twista with more artists to be announced.
Presale tickets for all shows is 6pm 15th June, you can pre-register to secure your spot at https://arep.co/t/juicy-fest-2023
General tickets on sale from 15th June 7pm from www.juicyfest.co. To make tickets more accessible Juicy Fest has set up a payment plan option to pay off your ticket for as little as $10.19 per week.
For more info and to get tickets head to www.juicyfest.co or follow on Instagram
Leading with innovation, Juicy Fest has allocated 5% of the tickets to be sold strictly as the 'Juicy Gang' NFT collection of 5,555 NFTs. The collection was inspired by R&B + Hip Hop fashion of the 90s & 2000s. Specifically, jewellery chains.
The real difference between the Juicy Gang collection and other NFT projects is that there is an immediate real world value of $5,000,000. Making this one of the biggest utilities seen in the NFT space.
Every NFT owner will receive festival access for 2-3 years and depending on the rarity of the NFT the utilities include, luxury overseas holidays, helicopter rides to the festival, shopping sprees, designer fashion and discounts with collection partners to name a few.
With the innovative offering, international lineup, unique NFT collection and emotive marketing expecting all shows and NFTs to sell out.
The NFT collection will go on sale on 14th June at 6pm NZT from www.juicyfest.co